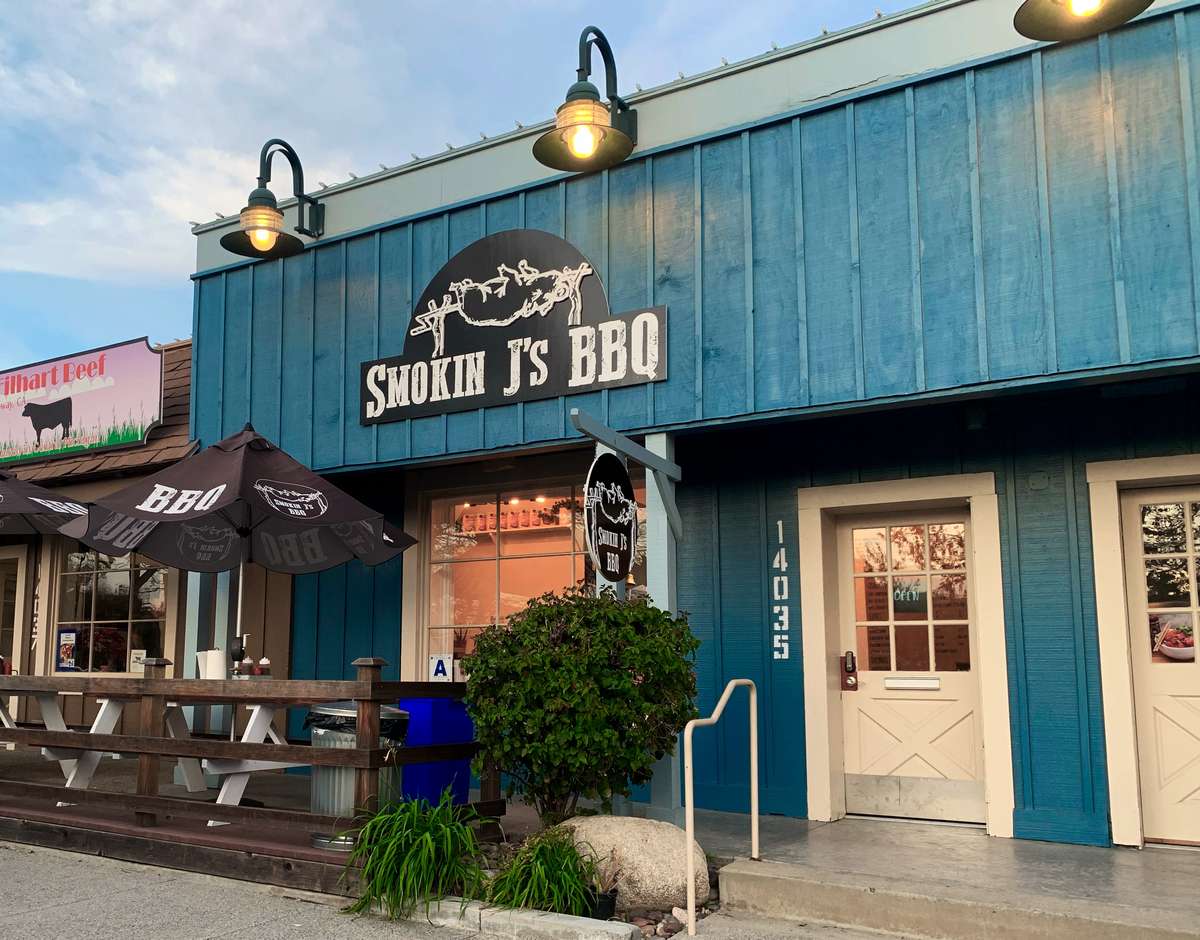 Our First Year in Poway
Our First Year in Poway
We did it everybody! We made it to 2021. It was certainly a hell of a time getting here, but we did it. While so far it may be hard to tell the difference between last year and this, if you look real closely, you'll notice that this year ends in a one…not a zero (it's different). Our first year at Smokin J's occasionally felt like being stuck in a sharknado. It was our first restaurant, we had no clue (maybe just a little clue) what we were doing. People were hired and fired and quit. Menus changed, procedures changed, software changed, the kitchen changed (sometimes daily). Did you know that at the beginning of 2020 we were pitched to be in a reality TV show on the Food Network? That, like many projects planned for this past year, never got off the ground, but plenty of other fun stuff happened. So take a load off, prop up your feet, and let's look back at the year that was the first year of Smokin J's BBQ. Don't worry, it was (mostly) a great one.
December 2019
Our journey begins back in the good old days when we were blissfully ignorant of Covid and madly scrambling to transition from a mobile food operation into our first brick and mortar restaurant. After burning the candle at both ends for the previous year, we finally opened our doors for a soft opening…and were promptly shut down. Poway announced that storm water had been running into the treated water, contaminating the town's water system, which prompted an immediate shutdown of all restaurants. While our customers sympathized over our poor luck, we celebrated the fact that we would finally get a couple days off to relearn what sleep felt like. The rest proved crucial because when we finally, and literally, cut the ribbon for our grand opening on December 15, we were surrounded by a crowd of well-wishers with a hankering for smoked meats. As we would learn, that crowd was not going anywhere, and we would need all the energy we could muster.
January 2020
It was immediately evident that our cautious optimism in the lead-up to our opening was far too cautious, and that our smoker was way too small. In a month that is typically very slow for restaurants we learned that we needed a bigger smoker, and that we didn't really know what we were doing. Brisket was disappearing about as fast as we could slice it, and we contemplated investing in pig farms based on the amount of ribs and pork belly everyone was ordering. On January 3 we sold out of everything on the menu a little more than an hour before we were scheduled to close. Two days later we had to lock our doors for a couple hours in the middle of the day to regroup, as we stood in the middle of the restaurant looking like cartoon characters who had just been sucked up and spat out of a twister. The line never ended. If we had 20 racks of ribs we would sell 30 and then beg and plead for the mercy of the ten unlucky souls who were sold nonexistent ribs. The limited supply caused our phone to begin ringing off the hook with people who wanted to place pre-orders. This involved more customer service gymnastics than we were ready for. We were dead-set on having an old fashioned bbq joint; get in line early, or cross your fingers we aren't sold out.
February 2020
The Super Bowl marked the 3rd anniversary of the first order Smokin J's BBQ ever took, when Jeremy sold a solitary rack of ribs in North Park on his first day of business. He ended that day having sold a grand total of 2 racks, so when the Super Bowl rolled around on February 4th 2020, we were nothing but smiles as we worked through our deep stack of pre-orders. In keeping with the professionalism that we are known for, we did not ask for a single dollar ahead of time for any pre-orders, working on blind faith that everyone who ordered would show up. And they all did, because we have the best customers in San Diego. In other news, Kenz decided that she had been watching Jeremy cook for long enough that she could now jump on the line and be a cook. As is usually the case, she was absolutely right. We ended the month as we began, holding fast to the idea that we could operate a traditional BBQ joint.
March 2020
Do you remember the little library we used to have on our front table? It was cute. Every book had something to do with BBQ, cows, or pigs. It was not Covid friendly and no longer exists. We were one of the lucky ones during this year of quarantine, though. If you can believe it, that was the only thing that we lost (except, temporarily, my sanity…but that will be discussed later).Covid caused us to lose our library, but it allowed our customers to gain what they had been begging for since we opened. Gone were the long lines and the stubborn insistence that you order at the counter. The customer is always right, as they say, and Covid forced us to relent and enter the era of online ordering. . We immediately had to shift our business online and over the phone. Herein lies the loss of my sanity. Brief story of the loss of Josh's sanity (performed in 3rd person):Josh entered March chipper and full of energy. Not only was his racing season about to begin (Josh is in the twilight years of his elite wheelchair racing career), but he was also finally gaining confidence in his ability to handle the front of house in the new restaurant. Uh oh, is that Covid-19's distressing music I hear? Overnight, Josh's daily life took a bit of a turn. All the races he planned on going to were cancelled and Jeremy decided to use some of Josh's newly acquired free time to open the restaurant 6 days a week, on top of opening up online and phone orders. Josh, being the only one here who uses a computer on a daily basis, was tasked with implementing said online and phone ordering. In no time flat, his days were spent answering the constant beckon of the telephone, putting out online fires, calling customers to apologize when we oversold items because the online menus weren't updating fast enough (one of said fires), and calling the company that managed the backend of our online ordering system to yell at them for the shoddy service they were providing (before ultimately dumping that initial system and finding a better one, but that didn't happen in March). He would return home every night a zombie, dead in the eyes and throat.During this same period of time we thought it would be "fun" to do our own delivery. Jeremy, Kenz, and Jonathan would split their never-ending kitchen duties with running frantically around Poway delivering that sweet, sweet Q. Invariably, whoever was taking deliveries would return back to a frazzled kitchen, because, of course, we didn't have enough staff to replace whoever was out on delivery, so when the inevitable rush came as soon as our cook/driver left the kitchen, the rest of us were forced to struggle on with a crew that resembled an anorexic skeleton. Each day ended with us agreeing to stop doing our own delivery, and each tomorrow began with us, once again, doing our own delivery.Sanity is a small price to pay for success, however, and we were the lucky ones. We ended another month paraphrasing Jaws, "We're going to need a bigger smoker."
April 2020
Apparently, if you say something enough times, you eventually do something about it (if for nothing more than to shut yourself up). Once the dust settled from our Covid conversions we looked up and noticed that the entire parking lot behind our shop was empty. It only took a second for our pea-brains to realize that "wait a second, we can put more smokers in those spaces!" We also struck a deal with the business owner next door to us to take over their lease and their space. Hooray for growth!In one fell swoop we nearly tripled our capacity, and by the time our landlord realized what we were doing outside (and lightly threatened to evict us), we had our Smokin J's flag firmly planted and a horde of satisfied customers at our backs. Speaking of satisfied customers, April once again confirmed that we have the best customers in San Diego. On April 18, Jeremy's birthday, I offered a special birthday discount for any customer who wished Jeremy a "Happy Birthday" when they came in to order. What I launched as a fun gimmick resulted in numerous customers throughout the day not only wishing Jeremy "Happy Birthday," but actually bringing him birthday presents! (You guys are truly the best.)
May 2020
May goes out to the mothers. Moms have been our biggest supporter from day one. What began as just the support of our own mother (and the recipe for Mama's Chicken Salad), extended to the support of moms all over Poway. The "Moms of Poway" Facebook group was huge in spreading their love for our restaurant when we first opened, and those same moms were instrumental in helping us staff our restaurant with their high school aged sons and daughters. It was on Mother's Day, with the launching of our Family and Party Platters, that we set our one-day sales record and tested the capacity of what we can produce. Thank you, Moms!In news only slightly related to moms, we also got our Beer and Wine License.
June 2020
With the country ground to a halt, the people still needed their BBQ, and we were finally hitting our stride in the "new normal" (jeez I hate that term). We no longer forced our owners and head chef to double as delivery drivers, and we even had enough time to introduce the Smokin' Pot Pie, an underground instant favorite that people are still begging me to bring back after its short summer run. June also brought a new one-day sales record as Father's Day told Mother's Day to hold its beer.
July 2020
July was a big month for the Smokin J's family. It marked both our first ever pig roast, and the Las Vegas wedding of Kenz and Jeremy (while these two events were separate this year, we would love to one day cater a wedding with a pig roast).While the nation grappled for the first time with how to handle holidays that promote large gatherings, we decided to throw a socially distant pig roast. We had acquired a pig from a wonderful student in the Future Farmers of America club at Poway High School, and did it justice by lovingly smoking it all night long and serving it up to celebrate the winning of our nation's independence. Two weeks later, I fled to Vegas with Jeremy, Kenz, and the rest of our family to celebrate their Elvis officiated nuptials. While we were drinking cocktails in a swimming pool, our head chef Jonathan was getting a good taste of what happens when feces hit the oscillating cooling device. Though we originally planned to close the shop for wedding weekend, Jonathan wanted to keep it open. We had the staff to manage while we were gone, and it was supposed to be a tough, but doable week. As things seemed to go in 2020, the day we left for Vegas our cook who manned the smoker from 5am until 2pm, had a stroke. While I'm sure Jonathan regretted convincing us to stay open that week, he worked like a champion and got the shop rolling until we came back.
August 2020
Does anything ever happen in August? I don't even remember. It was hot, Kenz was about to burst with her and Jeremy's first child, and people (thankfully) kept eating BBQ. This was supposed to be the month that I spent in Tokyo, racing in my fifth and final Paralympics, but instead I took that extra free time and worked more at Smokin J's.
September 2020
Nothing much happened in September either, except for the introduction to the world of the cutest nephew on the planet, the future pitmaster himself, Townes George. Kenz and Jeremy became first time parents to their first child 9 months after becoming first time parents to their first restaurant (feel free to fill in the blanks yourself. I'm just saying, opening a new restaurant can get the juices flowing).
October 2020
In what is typically the month that kicks off the best month of my marathon year (the Chicago Marathon in October and the NYC Marathon the first Sunday of November) no races occurred, continuing the trend of having excess free time to work at Smokin J's. The restaurant continued to be successful and attract the most amazing customers. We tried to give them more reasons to visit by introducing our Smoked-Then-Fried Wings on Sundays, and inviting little children dressed as princesses, vampires, and superheroes to come take candy from jack-o-lantern shaped buckets.
November 2020
Taking advantage of our nation's 24-hour love affair with turkey, Smokin J's pre-sold beautiful smoked turkeys and house-made gravy. Jonathan literally slept next to the smoker to ensure that everyone got the best tasting bird possible, and we were rewarded with even more pre-orders for Christmas. Speaking of smokers, if you stepped out back in November you would have noticed a hulking mammoth of a smoker that looked like it ate our old smokers for breakfast. We were a bit excited for this new addition, and you should be too, as it helped us maintain a much higher level of consistency in our smoking. Not only that, but this new behemoth allowed us to open up Mondays. That's right ladies and gentlemen, all the time I'm saving by not racing is being put to GREAT use.
December 2020
The comedy that was 2020 managed to hold true to its very last breath. While our restaurant finished the year with our three highest revenue weeks ever, we also got our first taste of corporate espionage. In a year that began with us running around like headless chickens, throwing delicious BBQ at all of our problems, it ended with another restaurant thinking, "damn, you know who knows what they're doing? Those guys." While I may question their judgement, it actually feels kind of cool being targeted. Alas, we have lost our morning cook to a new upstart a bit south of us. Have no fear, fine supporters of Smokin J's, we needed to hire more cooks anyway. If you see new faces over the next few weeks (or months), feel free to say hello and introduce yourself. We are excited for more people to learn the ways of the smoke and help us continue to improve.With that, we at Smokin J's BBQ wish everyone a very happy new year.
Stay nimble, calm, and flexible. And most of all, stay hungry.