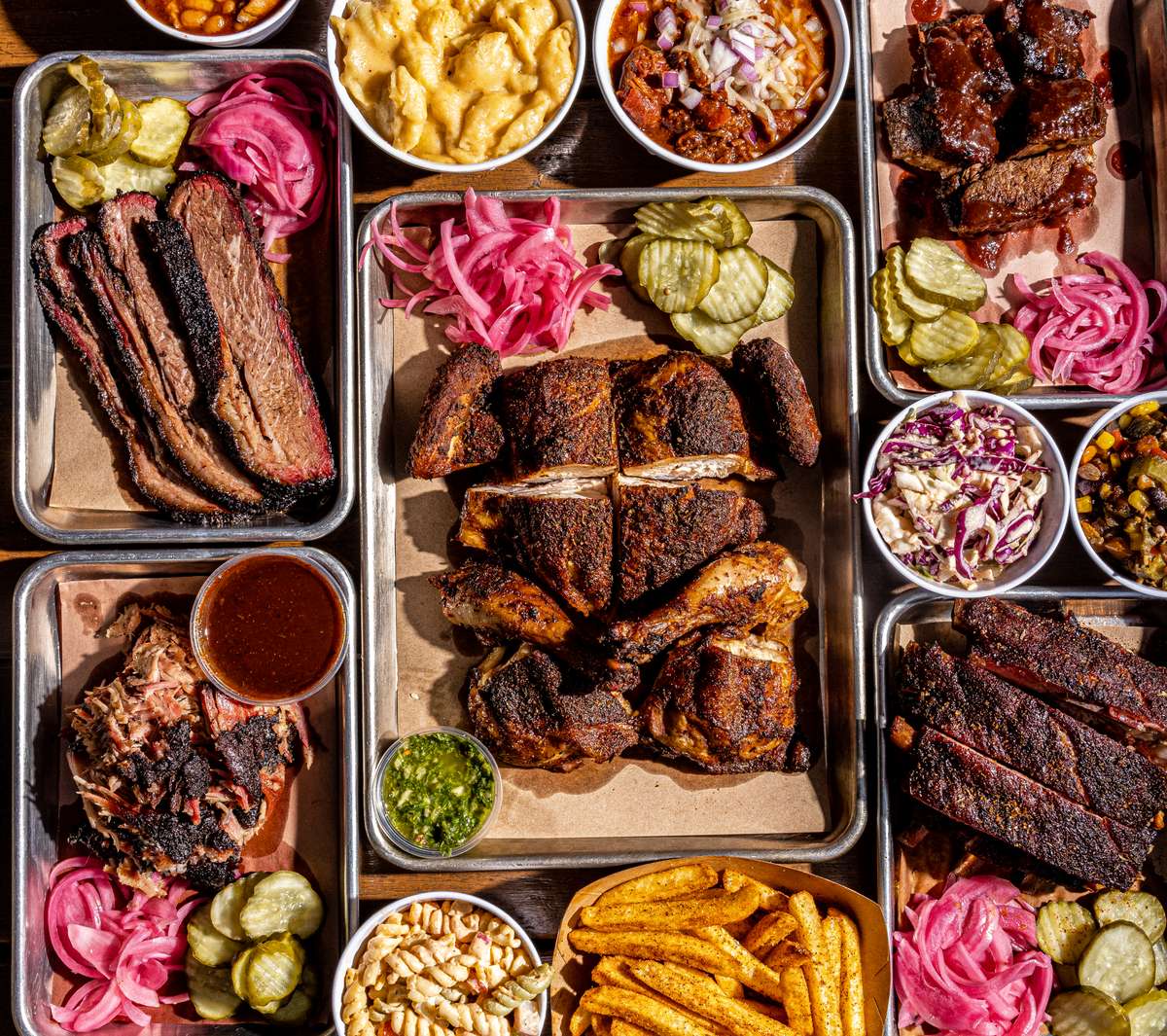 A Year in Review: 2022
A Year in Review: 2022
Welcome one and all as we look back at another journey around our Sun, and another opportunity for me to sit down and think, "What happened last year?" No, but seriously, can you help me? What in the hell happened?
While I let you grapple with the geopolitical aspects of the past 365 days, I'm going to refine my thinking to the world of Smokin J's. A world that at times in the past year felt like it ground to a painful halt, and at times felt like a little bud bursting forth into a flower.
To set the stage, here are some key stats from a year at our restaurant:
In 2022 we kept a fire burning in our smokers for more than 7,800 hours

Used 52 cords of wood,

Smoked 5,422 briskets,

3,560 pork shoulders,

1,560 pork bellies,

7,552 chickens, &

4,980 racks of ribs (mostly St. Louis spares, but a few cases of baby backs thrown in)
And with that, we begin.
January
2022 was set up to begin swimmingly. The year prior was a year of growing pains including Covid despair and complications, expanding the menu, a massive renovation we were determined to complete WHILE STAYING OPEN EVERY DAY, and a chef walking off the job on the busiest day of the year. With these challenges behind us, 2022 was supposed to begin with a little reaping of the fruits of our labors.
I distinctly remember sauntering into January with my shoulders thrown back in that confident air that said, "I may be exhausted and over-caffeinated, but the method behind the madness is about to reveal itself." Our renovation was fully behind us and the new front of house we built looked amazing. Our new patio was turning heads, and we had just gotten our gift cards into two local Costcos (a feat many find incredibly impressive, when in reality it was a pretty simple process, but don't tell anyone that bit). We were set for success… and then bam! COVID, BACK WITH VENGEANCE.
Our restaurant staff must have picked the wrong NYE parties to attend, because we started the year with half our staff calling out sick. After surviving "peak covid" with shockingly minimal disruptions in staffing, our luck ran dry in one fell swoop. With half our staff at home battling the Vid and the other half of our staff stretched thinner than ten-year-old yoga pants, we were forced to pull out of a festival we had already committed to; a first in Smokin J's history. My heart still goes out to those poor Winter Festival attendees who arrived with empty bellies and dreams of smokey meats, only to find an empty 10x10 space we were meant to fill.
The restaurant remained open, however. The show must go on. January was a firm reminder that the race was not yet over. We were in a marathon, not a sprint, as the old saying goes, and…
February
…it's a good darn thing I decided to retire from racing at the end of 2021, because Smokin J's certainly had other intentions for how I should be spending my time. February picked up where January left off. In line with a staggering number of businesses across the country, we had both the wonderful problem of a line of customers who desired our product, and the not-so-wonderful-problem of an increasingly depleted crew to provide said product. Our crew, per usual, were great in the lengths they would go through to keep the restaurant open and pumping out delectable smoked meat, however there is only so much you can ask a loyal crew to do. Our cries of "help wanted," shouted from every hilltop in San Diego, had yet to garner a response, and Jeremy and I were forced to concede that either we smelled really bad, or people just weren't looking for jobs in BBQ kitchens in Poway. Regardless of the reason, we chose to close our doors two days a week in order to ensure the quality and service our amazing customers deserve during the hours that we were open.
February was also about love, however. With little heart-shaped arrows zipping this way and that, we were bound to be struck ourselves a time or two. At the beginning of the month we got to see our sous chef, Patrick, marry the love of his life, and a mere couple of weeks later Smokin J's went on its first date with our new special friend, the ever-endearing podcast, BarTalk. Hosts Matt and Marc, along with producer Jess, decided to record an episode of BarTalk at Smokin J's on a clear winter night last February, and the sparks that flew would ignite a lovely fire (more on that later).
It was also at some point in February when I realized that I was not going to finish our "2021 Year in Review." If you would like to read more about our contributions to Love and food in February 2021, click here.
Love does have a tendency to take one's breath away. Which makes sense considering…
March
…I don't actually remember taking many breaths before March. While it may have felt like throwing in the towel (at least for Jeremy and myself) to close a couple days a week, it did allow us to get our feet back under ourselves and to become reacquainted with the rest of life that occurs outside the workplace.
This was a month that allowed us the space to celebrate other aspects of our lives. Jeremy, Kenz, and I (and my girlfriend Margaux), had the chance to celebrate our front of house manager, Tommy, getting married. We were also able to get together to celebrate the newest addition to our family. Kenz and Jeremy were pregnant again. We held a little party to celebrate and learn that we were going to welcome a little baby girl into the world.
In other news, we learned that our gift cards at Costco were selling faster than dayglo hotpants at a rave. We figured it may have had something to do with the 4'x2' photo of a juicy chunk of brisket on the stand and the fact that we all go shopping when we are far too hungry. You can't eat a four foot poster of brisket, but in this world of instant gratification, satisfying your hunger got a whole lot easier…
April
…in April, when we rebuilt our entire website and streamlined our online ordering! Holding for applause… Fine, no applause. You don't get excited by SEO and streamlined UI? Well too bad. This was a giant pain in the butt and we finished it in April and that's where we are. Now when you are browsing pictures of juicy butts (pork) and big 'ol racks (ribs) online, if you choose to do so on the Smokin J's website you can just click a few buttons and get the real live version of those photos delivered to your door in about 20 minutes.
In other news, Jeremy, Smokin J himself, celebrated his birthday. We graciously gave him the day off, a tactic all of you should have chosen…
May
…with your mothers in May. We have long since learned that even in the world of BBQ, May is for the mothers. In our first year we were blown away by the lines out our door (and around the block) on Mother's Day. Now in our third year, we were old pros. You were all back in hoards to celebrate your moms with piles of ribs, chickens, and briskets, and we were prepared. Our fancy new website passed its first test in allowing pre-orders to come through seamlessly, and our kitchen showed their chops keeping pace with the torrent of incoming tickets. Sure, the wait times could have been a little shorter, however this was our first Mother's Day since introducing draft beer, and it's a little easier to wait for your food when you get to sit out in the sun with a cold pint in your hand.
May also marked our first sale of bbq sauce and ketchup to a grocery store. Our bottled sauce and ketchup got a facelift in February, with some fancy new labels, and had now found a second home on the shelves of Siesel's Market in Bay Park. Gone were the days of hand stamping each label before applying it to the bottle, also by hand, and often crooked. Now we had sleek printed labels and a label machine borrowed from our friends at Swell Soda (Thanks Swell!). Our little product line was growing up…
June
…and June showed us how much the rest of the shop had grown as well. I still remember the very early days of Smokin J's, well before the restaurant, and before I even lived in San Diego. I was merely a sounding board, copywriter, and occasional graphic designer when Jeremy needed some menus or flyers. Jeremy started Smokin J's with a couple hundred bucks in the bank and a smoker on a trailer, so it signified huge growth when he would excitedly call me to tell me he grossed $1,000 in a week. I remember what a huge deal it was when he broke $10,000 in a month. We understand that growth can be measured in plenty of different ways besides dollar signs, but these numbers are a simple way to show how far Smokin J's has grown.
That is why Jeremy and I were so blown away when on Father's Day weekend we did more business and sold more meat in two days than we used to in an entire month of our early mobile days. There was even more food flying out the door on Father's Day weekend than in the majority of weeks in our first year as a restaurant. It is that growth that has allowed us to create jobs and bring in great people to be part of our crew.
Thankfully, some of those jobs were actually claimed in June, and we were able to open up seven days a week once again!
In other news, I used the month of June to expand my credentials in the social media world, shooting my first reel for Instagram. Despite reels having been a thing for some time already, I felt like the world was not quite ready for the unique ability that I had to offer. My reel was tremendous and thought-provoking. So good, in fact, that it probably never should have been posted for mass consumption in the first place. Alas it would be a long while before I would attempt another…
July
…however it would not be a long while before Smokin J's would pop-off on social media in a real way. That would come in July, when we decided to have a little fun for Comic-Con.
Inspired, propelled, and greatly aided by Michael Too (@boyworldwide), a video game and fashion aficionado, and an old friend of Jeremy and Mckenzie's, Smokin J's spent Comic-Con weekend masquerading as a Cluckin Bell.
If this statement elicited no emotion from you, you may have been among the many confused customers who came in that weekend wondering what the heck was going on, and were scared that Smokin J's had been bought out (I would have been part of this group, had I not been on the inside of the operation).
If, on the other hand, you saw "Cluckin Bell" and got super excited, you were part of the reason why we had a line down the block for four days while we sold Sprunk and Little Clucker meals, and why we went viral on Tik Tok.
Cluckin Bell, you see, is a fictional restaurant in the video game series, Grand Theft Auto (made by San Diego based Rockstar Games), one of the most popular games ever made. Under Michael's guidance, we brought the restaurant to life, creating an entirely new menu, employee uniforms, branding, and signage inspired by the game. The effect was real enough to attract the attention of local video game aficionados, one of whom posted a Tik Tok video that hit 2 million views overnight and kept our shop packed with people from all over Southern California for the whole weekend.
It was also a fun excuse for us to sling chicken sandwiches while wearing rooster masks and uniforms with mildly offensive sayings on the back. Though the restaurant makeover was temporary…
August
…in August, we gave a permanent makeover to our line of rubs. Never ones to worry about appearances, we found it quaint to sell our rubs in unmarked 8oz. plastic to-go containers with handwritten painters-tape labels. Independent grocery stores didn't seem to appreciate that aesthetic, however. Alas, they had a point, so we designed some fun new labels to dress up our collection of spices. They do look quite handsome, lined up in a row.
The birth of a new product line in August was nice…
September
…but it was nothing compared to the birth of a new baby in September. Jeremy and Mckenzie celebrated the birth of their second child, Rory Jean, a couple weeks after celebrating the second birthday of their first born, Townes. These two are definitely not afraid of a challenge. For those of you counting at home, that's two babies and one restaurant all under the age of three. Can you imagine all the diapers?!? I mean, for the restaurant alone… oy vey!
One of the magical things about having babies, I'm told, is marveling at how they grow up. The same can be said for a young business. We threw a lot at our team, and our newly anointed chef, Jason, in September. While Jeremy was out for the birth of little Rory, and I was on the east coast attending a wedding, our crew was at the shop keeping it open for daily business, catering, and operating as a vendor at the Poway Rodeo. It was the first big event that we had ever done at Smokin J's without Jeremy present, and the team pulled it off. So maybe I should make amends for how I ended the last paragraph. Our restaurant is indeed potty trained.
If you thought I have already used some variation of the verb "grow" enough in this recollection already…
October
…you may want to skip the month of October, because baby, WE GREW!
We grew in the literal sense, signing a lease for the unit a few doors down from us. A space we desperately needed so that Jeremy and I could stop taking up valuable restaurant space with our laptops. Of course, true to how things always go with Smokin J's, our office immediately became a whole lot smaller as we shifted a lot of dry storage from the kitchen to our office.
We grew our business opportunities, by fully re-launching the mobile side to our business. Coming full circle, from a business that was born as a purely mobile operation, to becoming a brick and mortar restaurant, we decided it was time to get in touch with our roots again and begin sending out our mobile smokers across the county.
We grew the size of our team, making our first ever hire for a position that was not directly related to the daily operations of the restaurant. Remember that love affair I mentioned oh so many months ago with a podcast named BarTalk? Well since our first meeting on that fateful day in February, we saw them many more times. We became friendly with co-host Matt and his wife, producer Jess. It just so happened that our sensibilities aligned and that we thought it might be nice to work together one day. That day came in October, when Jess joined our team as Director of Marketing and Events.
We grew in notoriety, as well, winning the vote for Best BBQ in San Diego in Reader Magazine. This had been a category dominated by another establishment whose name is VERY well known across San Diego (hint, it begins with a P- and ends with an -ils). We were a bit shocked and very excited to have been able to win this recognition in only our third year.
Finally, we took the steps to grow our social media presence by hiring the Poway-based social media company, Sachi and Pepa. I had been at the helm of our social media channels since their inception, and to say that I was sad to see my responsibilities taken from me would just be a bold faced lie. I may be good at a few things in life, but photography, videography, and building a social media presence are not on that short list. Sachi and Pepa, on the other hand, produce brilliant food photography, catchy little videos, and they know the social ropes. (Shameless plug for those of you still reading this far into the piece; follow us on IG @smokinjs_realbbq)
While we were growing a lot in October…
November
…the poultry industry, which we all became acutely aware of in November, was not. As some of you may remember, the poultry industry was struck with a massive case of avian flu, killing large swaths of birds. This did not happen in November, of course, but when we finally came to the one month in the year when the magical turkey takes center stage in our culinary worlds, it was quite shocking to find turkeys either unavailable, or incredibly priced.
Fortunately, Jeremy roamed San Diego for a few weeks hunting any and all turkeys he came across while chef Jason busied himself spatchcocking and brining each and every one. We were incredibly excited to get to cook so many turkey feasts for all of you again this year. It means a lot to us every time you come to eat our food, but to invite us into your home year after year for a holiday like Thanksgiving means even more. It feels good to create something that has become part of a budding tradition, and it felt really good this year to be able to pass out all your Thanksgiving feasts without any delays and not a single complaint about too long of a wait time. I'm not trying to jinx us for future holidays (and to err is to be human), but Jeremy and I were very proud of how our crew did on the busiest Thanksgiving we have ever had.
Celebrating how far the kitchen had come would have to wait, however…
December
…until December. Jeremy and I have never been very good about celebrating anything. A task achieved would garner a pat on the back, sincere thanks to those who helped, and the question, "ok, what's next?" One of the first things Jess said when she was hired, however, was that we were going to celebrate the anniversary of Smokin J's opening its doors for the first time.
We did it in a big way this year, and in a manner that will hopefully become a bit of a tradition. To celebrate our restaurant's birthday we threw a pig roast and invited the community. We had a brewery giving out beer samples, and a winemaker giving out wine samples. Santa Claus was posing for photos, an animal rescue had puppies for adoption, and BarTalk was out recording a special session. And in the middle of it all was the most delicious smoked hog you could have asked for. We were once again overwhelmed by the amount of people who came out to join us and it was the absolute best way we could have wrapped up this hell of a year.
Thank you to all of you who have joined us in 2022. I hope you all let us continue to feed you in 2023. Happy New Year.